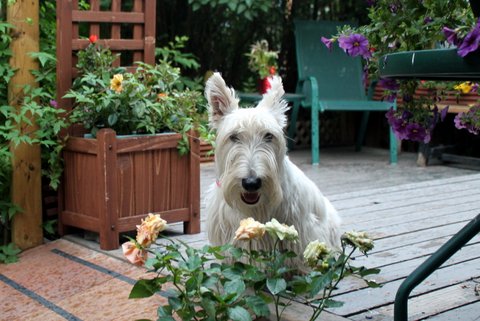 October's patient of the month is 'Uilleam' (pronounced William) Campbell, he is an almost two year old white Scottish Terrier. He Is a very sweet natured boy. He was in recently as he has allergies that have been flaring up.
Just like in people dogs and cats can be allergic to food, environmental allergens or bug bites. Typical symptoms of allergies are chewing at the paws, itchy skin, inflamed skin, and reoccurring ear infections. Food Allergies can be helped through a hypoallergenic diet and by eliminating the offending food. Allergies are controlled by limiting exposure as much as possible to the allergens and by treating flare ups with some or combinations of bathing, essential fatty acid supplements, antihistamines, steroids, antibiotics and desensitization through allergy shots. Dogs and cats can developed allergies at any age but on average most developed them between 1 and 3 years of age. Some breeds are more prone to allergies such as West Highland Terriers, Golden Retrievers, Bulldogs and Boxers etc.
In Uilleam's case he is now on a Venison diet and is taking antihistamines to get his flare up under control.
Uilleam's owners Stacy and Brent sent us some words on what makes Uilleam unique, you will also see by his picture that he is quite a handsome guy.
"Uilleam is a social dog and loves to play with both humans and dogs.
At home he can be found sitting on "his" chair watching out the window.
He loves to play rough and is known to hold grudges.
He likes cats but cats don't like him much, including our cat Fidel.
Uilleam is fiercely loyal and protective of his family.
A sensitive boy, he takes both praise and criticism to heart."