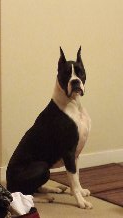 May's patient of the month is a strikingly handsome young man 'Tyson' Tong.  He is super sweet 4 year old Boxer, who is energetic, happy and super loving.
He was brought in by his parents who noticed a swollen area on his neck.  After having a thorough physical exam and a biopsy done of his lymph node, he was diagnosed with Lymphoma.  Lymphoma is a cancer of the lymphocytes (lymph cells),  it can involve one lymph node or all the lymph nodes as well as the spleen, liver and bone marrow in its later stages.
Tyson's treatment plan involves a series of chemotherapy sessions to kill the cancer cells. Chemotherapy involves using powerful anti- cancer drugs usually injected into the bloodstream in a series of sessions.  He is currently in his 7th week of treatment.
We are happy to say he is responding really well to chemotherapy and appears to be in clinical remission.  His energy is quite amazing which we know, is typical Boxer! He never seems down and will take treats and play right after his chemotherapy sessions.   He is awesome and we are big fans of this boy!